Certified Sex Addiction Therapist
When you're ready to extend your counseling service to a crowd seeking compassion, resolution, and freedom.
While you can seek help from general practitioners of psychology or counseling, more times than not it's far better to seek help from someone who specializes in the unique suffering and behavior associated with sex addiciton.
Furthermore, not all therapists have experienced the suffering of sex addiction. We have people on staff that are more than just a certified sex addiction therapist—they're a success story that will be able to relate to your story without speaking above you.
Whether you're ready to become a City Gate certified sex addiction therapist, or you're merely inquiring, we invite you to take a free class of our certification course to gauge your comfort level with the talking points and our staff.
If for any reason you don't feel our syllabus is for you, we'll be glad to suggest other training programs. We've been helping sufferers of sex addiction for over 25 years, and we've developed a network of friends who specialize in similar training.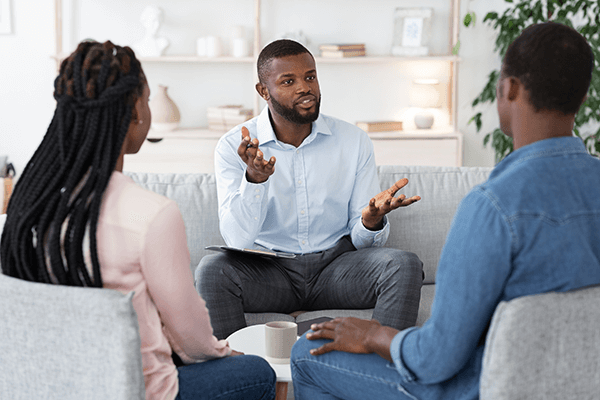 How to Become a Certified Sex Addiction Therapist
Very few general practitioning therapists or counselors have the capability to "jump right into" treating people suffering from sex addiction. Many sufferers of sex addiction have a complex matrix of symptoms and side effects, and they need to be addressed at different times and in different manners.
Online learning is an exponentially growing arena. Unfortunately for people such as yourself, it is a crowded space mixed with credible practitioners and novice impersonators. Some of these impersonators are captivating, enthusiastic personalities driven by outstanding online marketing programs. Don't fall into the trap! Choose credibility over flashing lights.
City Gate Recovery Center has been helping sufferers of sex addiction for over 25 years. The patient has always come first, and it wasn't until recently when we discovered the need for more therapists—not just in house, but nationally overall. We had many people reaching out for help, but they wanted to meet in person and they lived 1,667 miles away.
If you're looking to add "sex addiction therapy" to your list of disciplines, and you want a credible certificate program from a group of renown sex addiction therapists, you've come to the right place. Please choose one of the options below to continue, or proceed to the next section and take our free class.
Certified Sex Addiction Therapist Training
As you know, online courses are growing exponentially across the world. Some of the largest, academic-focused universities are empowering curious minds to take courses and acquire certifications in very specialized fields.
We're no different. City Gate Recovery Center has organized and presented over 25 years of best practices in sex addiction therapy into one certification course. You won't be merely watching a series of videos. You'll be completely immersed in worksheets, exercises, case studies, and more! We do this so you'll walk away from our course with the utmost confidence that sex addiction therapy can be one of the largest services at your office.
Plus, you won't feel stranded on an island like other online course providers. You'll have access to our staff when you have questions and any technical concerns.
Start today by taking our free course below, and we'll look forward to adding you to our network of sex addiction therapists and counselors.
Frequently Asked Questions
Sex addiction therapists are trained and certificed professionals who help sufferes of sex addiction treat, manage, and recover from their behaviors and consequences. The majority of therapists already have a background in either psychotherapy or counseling. This is due to the face that most sufferers of sex addiction have preexisting conditions that influence sex addiction to varying degrees. Examples include sufferers of depression, compulsive behaviors like OCD, alcoholism, substance abuse, and gambling.
Please visit the top menu of our website and select 'Find a Therapist'. If for whatever reason you do not like your options, we'd recommend one of the following paths. One is that you could call a local therapist or counselor and ask for a recommendation and referral. Two, you could visit mental health directory websites such as PsychologyToday.com or SAMSHA.gov. Or Three, you could Google 'sex addiction therapists' near me for potential listings.